The All-True Travels and Adventures of Lidie Newton: A Novel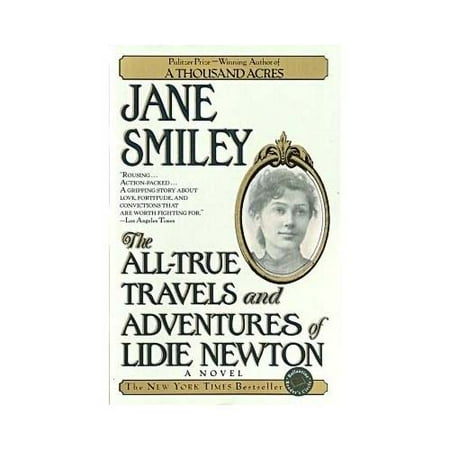 THE "NEW YORK TIMES" BESTSELLER

Pulitzer Prize-winning author of A Thousand Acres

"Rousing . . . Action-packed . . . A gripping story about love, fortitude, and convictions that are worth fighting for."
--"Los Angeles Times"

A "NEW YORK TIMES" NOTABLE BOOK

"POWERFUL . . . Smiley takes us back to Kansas in 1855, a place of rising passions and vast uncertainties. Narrated in the spirited, unsentimental voice of 20-year-old Lidie Newton, the novel is at once an ambitious examination of a turning point in history and the riveting story of one woman's journey into uncharted regions of place and self."
--"Chicago Tribune"

" A] grand tale of the moral and political upheavals igniting antebellum frontier life and a heroine so wonderfully fleshed and unforgettable you will think you are listening to her story instead of reading it. Smiley may have snared a Pulitzer for A Thousand Acres . . . but it is with Lydia (Lidie) Harkness Newton that she emphatically captures our hearts. . . . The key word in Smiley's title is Adventures, and Lydia's are crammed with breathless movement, danger, and tension; populated by terrifically entertaining characters and securely grounded in telling detail."
--"The Miami Herald"

"SMILEY BRILLIANTLY EVOKES MID-19TH-CENTURY LIFE. . . . Richly imagined and superbly written, Jane Smiley's new novel is an extraordinary accomplishment in an already distinguished career."
--"Atlanta Journal-Constitution"

"A SPRAWLING EPIC . . . A garrulous, nights-by-the-hearth narrative not unlike those classics of the period it emulates. In following a rebellious young woman of 1855 into Kansas Territory and beyond, the novel is so persuasively authentic that it reads like a forgotten document from the days of Twain and Stowe."
--"The Boston Sunday Globe"

"CONSISTENTLY ENTERTAINING, FILLED WITH ACTION AND IDEAS."
--"The New York Times Book Review"

"ENGAGING . . . A] HARROWING ADVENTURE . . . This picaresque tale presents a series of remarkable characters, particularly in the inexperienced narrator, whose graphic descriptions of travel and domestic life before the Civil War strip away romantic notions of simpler times. . . . Smiley has created an authentic voice in this struggle of a young woman to live simply amid a swirl of deadly antagonism."
--"The Christian Science Monitor"

"A fine historical novel that describes a fascinating time and place . . . It is both funny and subtle, rich in ideas . . . Smiley has created a better all-around piece of fiction than any of her previous work, including the Pulitzer Prize-winning A Thousand Acres."
--"The Wall Street Journal"

"Smiley is a writer of rare versatility who travels widely in her creative endeavors. She proved her mastery of both short fiction and the novel with three sterling works (The Age of Grief, Ordinary Love and Good Will, and A Thousand Acres); her fondness for history had already been established with The Greelanders. In 1995, she successfully extended her repertoire to comedy with the hilarious academic satire Moo. What her new novel shares with all these works is its authorial intelligence."
--"The Boston Sunday Globe"


"Jane Smiley is nothing if not protean, a literary ventriloquist of incredible range. . . . This is a novel that manages to combine the evocative storyteller's voice with the moviemaker's sense of drama and visuals, an old-fashioned tale told with contemporary steam and panache."
--"The Philadelphia Inquirer"

"Not only is this a rollicking feminist tale of a woman who can handle herself in the thick of the Kansas Wars, The All-True Travels and Adventures of Lidie Newton is also a coming of age story as well as a lasting portrait of the genuinely tumultuous time just before the Civil War."
--"The Raleigh News & Observer"

"A tale of love and war, revenge and betrayal, Smiley's fictional memoir invites compa